The Comprehensive Teacher (The EFL & TEFL Companion)
Publié le 24 Novembre 2015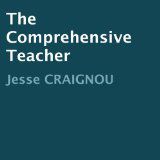 Reaching out to all the teachers and trainers…
Addressing speakers as well as parents, teachers and trainers…
Because all teachers at one time or another feel that need for taking it further, reaching deeper into the course options…
To blend all supports to implement so as to guarantee the highest return on teaching and learning…
What material, what approach, and for what course, can we find the suitable material and support ?
Students need to be taught what they need… with the best possible material and resources in the best learning environment… and to ensure that is done a teacher needs to use the resources of the brain to learn in compliance with the learning processes…
Teachers need to put their students' brains in the appropriate frame of mind or learning frame… to put the brain in gear before they start to drive the teaching and reach the learning…
For lack of setting the students in the right mindset the English teacher will only be swimming against the current…
Every teacher should have The Comprehensive Teacher !
Because it is about what you teach… as much as how you teach…
As a young adult I soon realised that some people always made it… while others didn't regardless of how much effort they put into it… there had to be another way… I searched and researched far and wide… more often that not day and night… and realised that was not so much as much as how they did it...
The results come from successful professionals all over the world… that was what I found when I decided to study all the wining procedures and use them to my benefits and my clients' benefit… I studied and haven't stopped studying…
The results in teaching and learning are here for your benefit too…
The Comprehensive Teacher is also an audiobook by Maxine LENNON.
Jesse CRAIGNOU
Read more
https://store.kobobooks.com/en-us/ebook/the-comprehensive-teacher-efl-tefl-companion
or listen
http://www.amazon.com/The-Comprehensive-Teacher/dp/B00I3PSDEO/ref=asap_bc?ie=UTF8